Nga Purongo A Tau | Rautaki | Key Documents
Area of Interest
Historic & Scenic Reserves
Area of Interest
Waitaha Rohe Area of Interest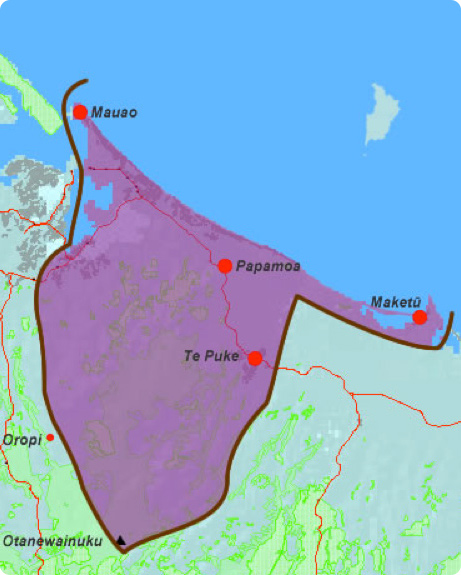 This map shows the Area of Interest agreed between Waitaha and the Crown in the Deed of Settlement signed on 20 September 2011.
The Waitaha rohe covers the lands and waters marked on the eastern side by the mouth of the Kaituna River.
Follow the Kaituna River to Te Tumu and then travel up the Kaituna River until it meets the Waiari River and follow the Waiari to Te Rerenga Stream. From there climb up to Otanewainuku and then beyond Otanewainuku to the Mangorewa River.
Then follow the Waimapu River down to the Tauranga Harbour and out to Mauao on the coast back down to the mouth of the Kaituna River.
Iwi rohe interest in local authority regions and districts
This rohe of Waitaha extends into the regions or districts of the following local authorities.
Regional Council
Environment Bay of Plenty (Regional Council)
Territorial Authority
Western Bay of Plenty District Council
Tauranga City Council
Historic & Scenic Reserves