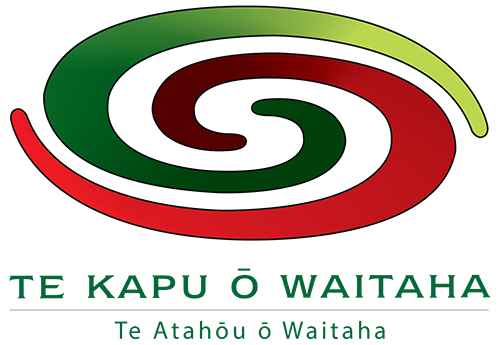 Following a series of consultation with the Trust and others, Te Kapu Ō Waitaha Logo was developed on behalf of the Trust by sculptor Trevor Nathan, as a representation of our symbolic past.
The colour green represents te hunga ora, while the red represents te hunga mate.  The white is symbolic of Te Ao Marama.  It is the infusion of all three elements; our past, our current and our future that has influenced the Trusts' Corporate statement "Te Ata Hou o Waitaha", translated as the "new dawning of Waitaha".
The shape of the Logo also presents our history represented by the incident of Ngataiwhakaki, [wife of Hei, and Mother of Waitaha].
Ngataiwhakaki was formerly known as Hinerangi.
Ngataiwhakaki is also the Wharekai of Hei marae.