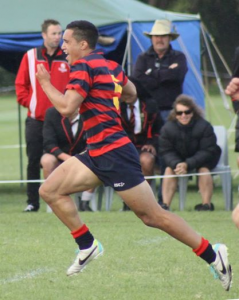 "Oh words can't explain that.  It's always been a dream to put on the black jersey, and play for New Zealand and I'll be really humbled to put on the black jersey"
Isaac was shortlisted for the 2015 Working Style Player of the Year and now he's leading the charge of a new generation of youngsters in to the game of sevens, at national level.
Tietjens says, "There's certainly talent amongst the schools, in Rotorua Boys High School.  Last year Rieko and Akira Ioane, from Grammar in Auckland, so yeah there are opportunities for youngsters certainly in the game of Sevens."
Isaac has already caught the attention of last year's breakout schoolboy superstar, who quickly rose to sevens fame.
Rieko Ioane says, "Just being in that programme, the Sevens programme.  Just the exposure you get and just accelerates your progress on to further, so yeah just up and onwards