Tikanga

We will strive to ensure ngā tikanga ō Waitaha is demonstrated in the decisions we make.

Mana

We will maintain a high degree of personal integrity and ethical behavior in all decisions we make.

Kai Tiaki

We will pursue knowledge and ideas that support and progress those things valued by Waitaha.

Trustees | Te Tari | Charter | Election Information
Tapua Te Amo
NGĀ KUPU Ō TIAMANA

My commitment as Trustee is simple, he hapi ngā tikanga ō Waitaha.

Frank Grant
TRUSTEE

My vision as Chair for Te Kapu Ō Waitaha is to build on the wisdom and knowledge of our Tipuna, by developing a robust and effective infrastructure (foundation) that will withstand the test of time.

In addition my focus is on implementing prudent and sustainable leadership of our economic, educational, cultural, spiritual and aspirational objectives for Waitaha.
Carol Whare
TRUSTEE

My vision as a Trustee on the PSGE for Waitaha is to to give our beneficiaries a renewed and exciting arena of economic, social and political stability for all of us and our mokopuna to come.

With strategic vision that will be implemented, managed and monitored, including prudent financial planning and accountability we ensure that we remain focused on our commitment to the iwi.  They deserve no less.

Joshua Grant
TRUSTEE

My vision as Trustee on the PSGE for Waitaha is to help lead the strategic direction of Te Kapu Ō Waitaha Trust.

I will always consider our cultural, spiritual, health, education and employment needs now and into the future.

For young and old and those in between for all to share and benefit & for the ultimate success of Waitaha.
Retimana Te Moni
TRUSTEE

Retimana Te Moni is dedicated to seeking what is best for the iwi as a whole, and is looking to keep tikanga at the forefront of all discussions.  He also promotes the importance that whanau views be considered equally.  Retimana has lived on Manoeka Road, Te Puke for over 45 years, and has been employed within local Health Services for over 20 years as a Drug & Alcohol Counsellor, Mental Health and Social Worker. He is also the Chairman of the Wharepouri Te Moni Ahuwhenua Trust committee, set up to assist in the succession and dissemination of the whanau land.  Retimana has also served on the Board of Trustees at the Te Puke High School.  The time spent in serving the community and iwi has been a genuine honour and hopes
Group Structure
Te Tari o Te Kapu Ō Waitaha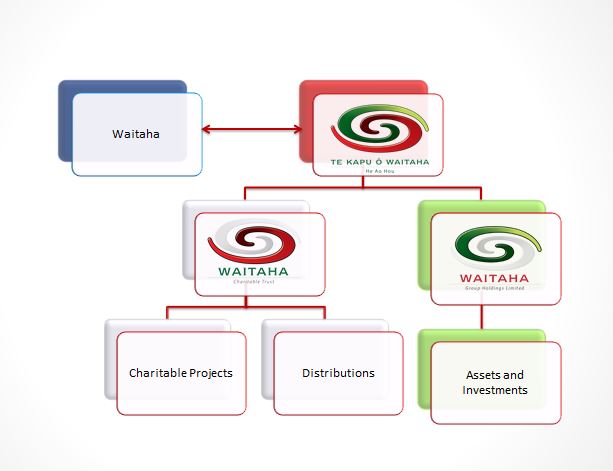 Charter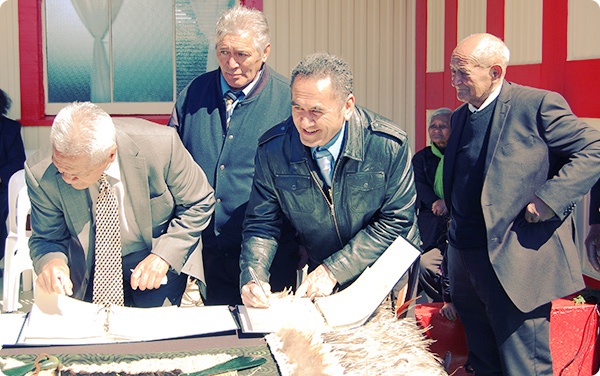 Te Kapu Ō Waitaha Charter
Download the latest here
On 20 July 2011 Waitaha initialled a Deed of Settlement with the Crown to settle their historical Treaty claims against the Crown. This followed a period of direct negotiation between the Waitaha Raupatu Trust, on behalf of Waitaha, and the Crown.
In order to meet the requirements for Settlement prescribed by the Crown a post settlement governance entity needs to be established to receive and administer the settlements assets received as part of the Treaty settlement agreed with the Crown. In establishing this post settlement governance entity Waitaha wish to at all times adhere to the concepts of Waitaha tikanga.
The Charter details all key points in terms of how the Trustees should conduct themselves, important information related to the Waitaha Membership Register, elections of Trustees, proceedings of Trustees and how to pass Special Resolutions.
Elections
TRUST ELECTION RESULTS;
The Board acknowledges the three candidates who stood for the Board elections this year.  Following is the vote result;
Elected Trustees commencing January 2021
·         Tapua Te Amo (re-elected)
·         Reginald Te Moni
The Board announces its' congratulations to the elected trustees, and also a special acknowledgement to Kuini Te Amo who fulfilled the remaining 12 month term of the Trustee position which will end this December 2020.
A huge thanks to all those who participated in this years' elections.  The Board looks forward now to its' AGM in December.
[/tab_content]